Small Business Banking

Need help?
Call
,
Book an Appointment
or
find an Account Manager, Small Business
Small Business Banking
Steps to start up
Working for yourself can bring many rewards, such as freedom, flexibility and the chance to follow your dreams. But it can also bring new challenges. The good news? With some smart business planning, you can put the odds of success in your favour. We can help.
What is the best way to start your business?
Pros
Freedom of choice on how you organize and structure the business
Flexibility to scale the business to customer demand and opportunities
Less expensive to set up, as you are not paying a premium for assets
Cons
Takes longer to establish supplier and customer relationships and ramp up the business
Learning curve for owners/employees as new processes are created and refined
Cash flows and profitability are less certain
Pros
Easier to ramp up the business as there is often an existing product/service and customer base
Easier to predict cash flows and profitability
Purchasing used assets/equipment is usually less expensive
Existing business owner may be willing to help transition the business to you and provide vendor financing
Cons
Challenging to identify existing businesses that are up for sale
Challenging to value intangible business assets such as customer lists, goodwill and patents
Legal considerations can be complex and will require representation
Pros
Franchise systems provide a well-researched and tested business concept supported by training, site selection, systems, and business set up
Many also provide ongoing brand/marketing/advertising support
Many franchise systems continuously innovate to help you offer new products or services
Cons
Less freedom in setting up and structuring the business
More expensive to purchase as you are paying for the brand, concept and expertise
More expensive to operate as most franchise systems charge ongoing royalties and other fees
Franchise Agreements may be cancelled for non-compliance with the rules
Entrepreneurship is a dream shared by many Canadians. If you're just starting out, these business principles can put you on the path to success.
Write a business plan. Developing a plan will organize your thoughts and provides direction. Our free Online Business Planner is a good place to start.

Get advice. A TD Account Manager, Small Business will work with you to help find strategies to improve your bottom line. Connect with a Account Manager, Small Business

Separate your business and personal finances. Opening a separate business chequing account and getting a business credit facility will help ensure you don't mix up your personal and business finances. It also helps demonstrate to the Canada Revenue Agency that income and expenses are business related. See our Business Account options

Keep good books. Tracking income and expenses, saving receipts, and paying bills and invoices on time will give your business a professional edge.
Opening a business chequing account is a key step when starting out. It will help keep your business and personal expenses separate, and get your business off to a good start for tax purposes. It will also help project credibility and professionalism to customers and suppliers of your new business.
---
Advice & Resources
Cash flow Best Practices
The right cash flow strategies can go a long way to helping your business succeed.
Increase your cash flow
Invoice immediately after you deliver goods or services

Offer a small discount to customers who pay their bills early; charge a penalty to late-payers

Monitor your receivables on a regular basis. Establish a credit policy for your customers and be sure to follow-up with late-payers

Use your business credit card to pay suppliers and earn rewards while taking advantage of the payment grace period

Ask suppliers for credit terms – this can help reduce your cash outflows until you collect payments from your customers

Accept payment cards to receive next-business-day proceeds for sales.

Get business overdraft protection or a business line of credit to cover short-term needs and emergencies, and to help better manage your cash flow

Put your excess cash to use and invest for your business

Finance (equipment, vehicles) instead of buying to free up cash
TD Merchant Solutions offers straightforward advice and payment solutions to keep pace with your growing business. Proceeds from your payment transactions are often available the next business day.
Ceridian Canada Ltd., in association with TD, offers a variety of professional payroll products designed to save you time and money.


---
Advice & Resources
Planning for growth
While many business owners look forward to growth, rapid growth can present challenges. For example:
Shortage of capital to fuel expansion (working capital or longer-term capital)

The need for new processes and systems to meet demand

Onboarding new employees

Strains on management resources

Outgrowing your current premises

Increased competition (nothing attracts competition like success!)
TD Account Managers, Small Business can provide you with the right solutions to manage your business growth, based on your specific needs. Here are some of the ways we can help:
Explore government-sponsored programs and agencies that may help you to grow your business or access new markets.
Visit our Small Business Resource Centre under "Other programs and useful links" for more information.
---
Advice & Resources
Credit solutions to help meet your needs
Having access to sufficient capital and credit is key to small business success. Whether you want to manage your cash flow, purchase new equipment or acquire new premises, we have the credit solution that can help meet your needs.
For unexpected shortfalls
Business Overdraft Protection ensures that you always have funds available through your Business Chequing Account (up to your available credit limit) to meet unexpected cash flow shortages and emergencies.
Access funds when you need them
A Business Line of Credit can be a valuable tool to help finance your day-to-day operating costs, manage your cash flow and grow your business. Learn more about this flexible financing tool.
A convenient way to manage your expenses
A flexible financing option
A Business Loan provides an excellent way to finance equipment purchases, make improvements to business assets and expand your operations.
For purchasing or expanding commercial property
A Business Mortgage can be used to purchase a new property, expand existing premises and more.



Start, purchase or grow your business
---
Advice & Resources
Start planning for succession today
As a business owner, you've worked hard to build your business and may now be looking forward to the day when you can step away and enjoy your retirement. To maximize the value of your business when it comes time to sell or exit, and to ensure a smooth transition, you'll need to develop a business succession plan. The sooner you can start the process, the better position you'll be in when it's time to step away or retire.
Succession planning checklist
Decide when you want to retire. Engage your family in the discussion.

Decide who will take over your business. Will it be family members, business partners or a third-party?

If you want to keep the business in the family, determine which family members are interested and capable of running the business.

Determine the most tax-effective way to sell your business, in consultation with your lawyer and tax Account Manager .

If you are not the sole owner, what arrangements need to be made with partners or shareholders?

Do you have a business contingency plan in place? If something were to happen to you before you transfer ownership, who would assume responsibilities for the business?
Our integrated, comprehensive and customized wealth solutions give you the confidence to enjoy the freedom you've earned. See how we can help.
---
Advice & Resources
---
Find the right account
Do business your way with our flexible and cost-effective account solutions.
Knowledgeable business advice
We'll take the time to understand your business and provide the advice and solutions that are right for you.
Small Business Resource Centre
Access our library of content and tools to help you manage and grow your business.
Get Help Online
Post a question and our team at TD Helps, along with our community, will respond. You ask. We answer.

Why choose TD?
We make banking more comfortable
Open longer and later
We're open later and longer – even on Sundays.1 Because running a business is not a 9-5 job.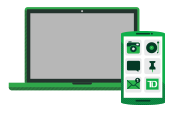 Convenient business banking
anytime, anywhere, 24/7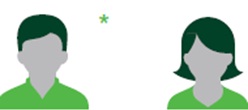 Our Small Business Banking Commitment
You can count on us day in and day out to help you run your business more effectively. With our broad suite of credit and account products and services, we will work with you to tailor a solution that meets your small business needs.
Asset purchases from an existing business may be subject to the Bulk Sales Act in your province (in other words, you are not just purchasing assets, you may also be liable for the existing business' debts).
A share purchase of an existing business is an alternative to an asset purchase. There are a number of complex legal and tax considerations that should be explored with your legal counsel and accountant.
Purchase details and any vendor financing arrangements should be documented in a valid contract or agreement. Such purchases will require legal representation for both buyer and seller.
Ways To Apply
Call us 24/7 at 1-866-222-3456 OR
TTY 1-855-646-8820
7:00 a.m.-12 a.m. EST, 7 days a week