About TD
We're proud to celebrate more than 150 years of serving newcomers to Canada.
We speak more than 200 languages
More than 1,150 branches — open later and longer than other Canadian banks1, with 400 open on Sundays
More than 2,800 ATMs in multiple languages
---
Safe and secure banking
Global Finance named TD Bank one of the World's 50 Safest Banks in its 2013 rankings.
When you bank with TD, your money and personal information are always protected.
Our Online Security Guarantee protects you from theft or losses from unauthorized online banking activity.
When you use your TD Credit Card, with Zero Liability protection from either Visa or MasterCard (as applicable) you are protected against unauthorized transactions.2
24/7 service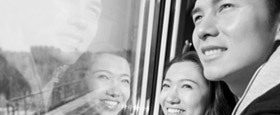 Our banking package for newcomers to Canada
It has everything you need to get started.
Get an account with no monthly fee
Get a bonus rate on your savings account
Get a credit card
No fee money transfer
And more!
Explore these other products and services:
---
Access your money at a branch or ATM, pay bills, write cheques and more.
---
Helps build your Canadian credit history while allowing you to enjoy the convenience of being able to make purchases with your Card, including using it to shop online, rent a car, travel.
---
Earn interest on your money and watch your savings grow.
---
Transfer money safely to family or friends anywhere in the world.3
Visit a local branch
More than 1,150 branches to serve you
When you visit a TD branch, you'll need to bring 2 pieces of identification:
1. One of the following documents:
Permanent Resident Card
Confirmation of permanent residence (e.g., IMM Form 5292)
Temporary Permit (e.g., IMM Form 1442, 1208, 1102)
PLUS:
2. One of the following documents:
A valid passport
Canadian Driver's Licence
Canadian Government Identification card
Other identification documents may be acceptable or required. Please visit a TD branch for details.
What are your goals?
Finance a car
Finance a home
Plan for my children's education
Invest my savings
Start a business